We are Winnipeg's #1 Trusted & Professional Scalp Micropigmentation Clinic
We specialize in treating both men and women for all types of hair loss. We specialize in correcting botched SMP and covering unsightly scars left behind from Hair Transplant scars.
What is Scalp Micropigmentation?
Scalp Micropigmentation is a safe and easy process in which natural pigments are implanted onto the scalp with a very fine, single tattoo needle, to reduce the appearance of bald or thinning spots. Depending on the amount of hair loss and desired look, we use several techniques to replicate natural hair follicles at the epidermal layer of the skin. Usually, women experience diffuse thinning and don't lose the entirety of their hair. Men tend to experience male pattern baldness, complete hair loss or thinning on the crown of the head.  These cases are ideal candidates for Scalp Micropigmentation. For men we can add density to thinning hair or completely cover the scalp in the Micropigmentation technique to give the appearance of a shaved head and new hair growth. For both men and women who have had hair transplant surgery, we can correct and cover failed transplants and cover scars left behind.
Whether you are looking to add some density to your existing hairline or are suffering from complete hair loss, we are helping men & women find their long-term solution to hair loss.
What are the benefits of Scalp Micropigmentation over other hair loss solutions?
Minimal pain for most people
Short recovery time
No surgery required
Works with any skin or hair type
Covers the appearance of scars
Only takes 2 – 3 treatments for guaranteed results
Low maintenance (3-5 years average before needing touch ups)
No side effects
Can continue to dye and style hair as normal
Works with and accentuates existing hair
How can Scalp Micropigmentation help you?
Tired of having low self-confidence due to hair loss? Whether through natural female or male pattern hair loss, medical treatments, or a traumatic experience that left you scarred; Scalp Micropigmentation is the solution you've been searching for. Other hair loss treatments are a temporary fix to a long term problem and some come with many significant side effects. In just a few simple treatments, you can either build off of your existing hair structure or get a completely new look.
If you are suffering from any of the very common hair loss types mentioned below, Scalp Micropigmentation is the right solution for you.
Male & Female Pattern Hair Loss: Natural hair loss, usually brought on by hormones, aging, and is most influenced by heredity.
Alopecia Areata: Hair loss due to immune system attacks hair follicles, usually onset by severe stress.
Telogen Effluvium: Hair loss or shedding usually after periods of physiological or hormonal stress.
Anagen Effluvium: Hair loss due to sudden shock to the hair follicle most commonly from chemotherapy and other medications found in cancer treatments.
 Traction Alopecia: Hair loss brought on by excessive hair styling and pulling. Hair styles such as braids, ponytails, cornrows, and buns are all examples of hair styling that can contribute to female hair loss.
Why Choose Us?
Why choose Cosmetica? Our Treatment Centre puts health and safety first, its always cleaned after each client, tools, needles and machine grips are %100 disposable one of the first of its kind in the industry. The clinic is beautifully furnished, comfortable and welcoming. Our technician is trained by one of the best SMP artists in the world, Bryce Cleveland at Scalp Aesthetics in Arizona.
We treat all our clients with courtesy and professionalism at all times, and compassion and confidentiality underpin everything we do. We will never lose our way and put profit before people. We know this commitment is important to our customers, and we're proud of the service we deliver.
You're our honoured guest for the time you're with us, and part of the family thereafter. We aim to do all we can to make your experience positive, life-changing and enjoyable.
THE WORLDS MOST ADVANCED SMP
Scalp micropigmentation has evolved considerably since primitive versions first arrived in 2008. We have been certified by Scalp Aesthetics, who continually develops the technique, machines, needles and pigments in relentless pursuit of perfection. As a result, the Scalp Aesthetics Technique (SAT) is regarded by most to be the most advanced form of scalp micropigmentation in existence.
What does this mean for you? When you come to our clinic, you can expect incredibly realistic results, less fading than is offered by any other company in the world, the widest choice of hairline styles from natural to edge-up, and the ultimate in client service and aftercare.
SCALP MICROPIGMENTATION FOR MEN
The ultimate modern solution for male pattern hair loss
Hands down, we believe that scalp micropigmentation is the best solution in the world right now for male hair loss. Call it what you want – male pattern baldness, androgenetic alopecia, diffuse thinning – the bottom line is that you're losing your hair and you want to do something about it. The Scalp Aesthetics Technique could be the answer you've been looking for.
If you're considering options like hair restoration surgery, hair systems or concealers, stop and think for a moment. Do you really want a lifetime of worrying about how your transplant is holding up, or when you'll need your next one? You want to rely on temporary cover-ups that you glue or shake on to your head? Scalp micropigmentation offers a stylish, modern look without any of the drawbacks of these other options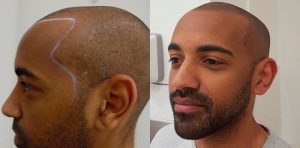 HOW DO YOU REALLY WANT TO LOOK?
The best part of the SMP procedure is that you can really have whatever desired outcome you desire.
Anything you want can be achieved, and during your consultation, we will go over how dense you want you hair, the darkness and overall look you are striving for. Our specialists will be very honest and upfront with you if your desires fit into what is achievable or not. Honesty and integrity is the Cosmetica way.
SMP solutions for female hair loss
We usually don't show many pictures of women as it is more of an uncommon thing and we respect their privacy. This is the perfect procedure for women who are thinning because we create an underlayer which gives the illusion of a full head of hair.
Scalp micropigmentation not only gives the illusion of a full head of hair, but it actually stimulates new growth. The repetition of insertions to the dermal layer of skin is known to bring back hair follicles.
Scalp micropigmentation, otherwise known as SMP, is perfect for women who are thinning on the top and crown area of their head. We also have treated female clients with alopecia, who wanted to avoid dealing with constant spot balding. We also have treated many women who have had facelift surgeries, due to scarring on the sides and temples of their head, it leaves bald patches. We will fill and camouflage scarring blending it evenly through the hair.
The needs of each client are unique, however rest assured that although scalp micropigmentation was originally developed for men, we treat many women too. If you want to do something about your hair loss, scalp micropigmentation may provide the answer.