Collagen Induction Therapy (microneedling) with eDermaStamp® by Dermaroller
The gold standard of professional micro-needling! Promote skin repair and reduce the appearance of aging, wrinkles, scars, & stretch marks with Dermaroller® Collagen Induction Therapy, licensed by Health Canada.
When it comes to minimally invasive treatments, Micro-needling Collagen Induction therapy with the eDermaStamp® by Dermaroller® is clinically proven and is perhaps the most successful treatment available for the common signs and symptoms of aging such as wrinkles, loss of skin volume, and crepey skin.
The eDermaStamp® micro-needling treatment is even proven to minimize scars and stretch marks. The eDermaStamp® therapy triggers the body's spontaneous healing process, stimulating cell proliferation and causing the formation of new collagen. This results in a thicker, more supple, cellular matrix. Results: visibly younger looking skin.
Microneedling Menu
eDermaStamp® by Dermaroller®
Treatment of wrinkles, lax or sagging skin, scars, stretch marks, age spots, hyper-pigmentation.
Full Face
Single Treatment……………………………$375
Package of 3 treatments………………….$925
Add Neck & Chest $100 per treatment
Stretch Mark Treatment
Consultation required
Treatment starting at……………………….$450+
Abdominal
Skin Tightening & Stretch Marks……..$450
Package of 3 treatments…………………..$1200
Scar Treatment
Consultation Required
Treatments starting at………………………$250+
For more information on the eDermaStamp Microneedling treatment, please see the eDermaStamp By Dermaroller pamphlet.
Safest Micro-Needles
The medical-grade micro-needles of the eDermaStamp® by Dermaroller® are atraumatic (non-traumatic) cone-shaped needles that displace the skin during the puncture process, creating a micro-wound that seals within minutes of treatment. Poorer quality roller devices are made with knife-shaped needles that slice through tissue and risk causing traumatic skin, vessel and nerve damage. Poor quality needles also require increased pressure, making for a more painful treatment.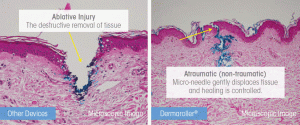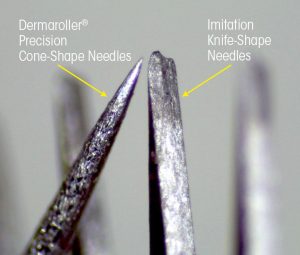 Non Ablative
Where other scar and anti-aging treatments are ablative (destroying tissue), the eDermaStamp® by  Dermaroller® respects the integrity of the epidermis and dermis, using atraumatic (non-traumatic) perforations to gently trigger the generation of new tissue.
Certified Medical-Grade Equipment
The eDermaStamp® by Dermaroller® is ISO13485 certified (certified medical device), meeting all standards for medical-grade equipment in manufacturing, materials, sterile packaging and more.
Licensed by Health Canada
The eDermaStamp® by Dermaroller® is licensed by Health Canada. There are countless imitation products on the market that are not licensed by Health Canada so we recommend you do your research, to protect your health and safety.